Skip to Content
All of our classes and exercises have been carefully designed to help develop motor skills, hand-eye coordination, and learn character development and other essential life skills. Your child's confidence grows every time a new life skill is learned! After training with Team Martial Arts, your child will be well-equipped to do their very best at home, school, and in life.

Benefits of Our Tigers Program Include Improvement In
Listening and following directions
Memory of important concepts and lessons
Attention and discipline
Focus on school, chores and other responsibilities
Coordination in sports and other physical activities
Balance and body control
Manners and respect for peers and adults
Teamwork with classmates and siblings
Fitness and harnessing energy in a positive way
Confidence in their abilities as they learn new skills
Understanding safety concepts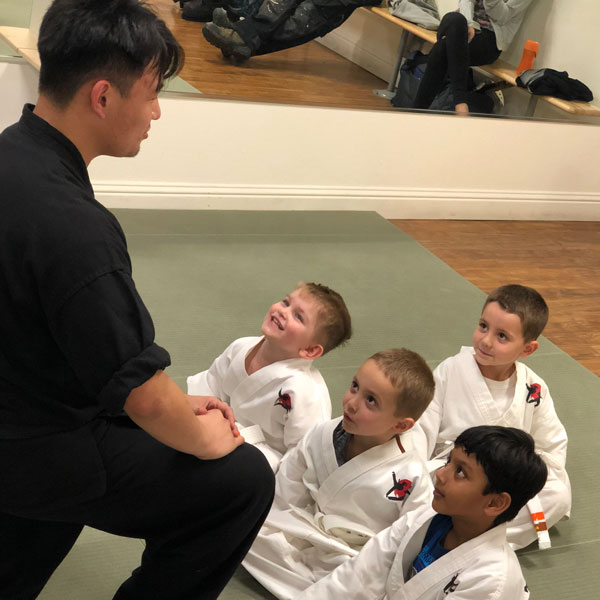 Unique Teaching Philosophy of Positive Reinforcement
Through our philosophy of positive reinforcement, your child will develop the confidence and security to thrive when they get introduced to new situations. Classes are fun, exciting, and conducted with a perfect balance of discipline and fun. Students learn basic life skills and develop a foundation for success. Our curriculum is concentrated in content which focuses on essential life skills and character development. Our unique class format allows us to teach each life skills balanced with martial arts skills, and we utilize our amazing parent-child learning section. Tigers classes are an exciting and fun way to give your child an introduction to the world of martial arts in a controlled, safe, and family-friendly environment.
Developing Life Skills
Our Tigers program is for children ages 3½ to 6 and will focus on and improve the following character development life skills:
Focus
Control
Memory
Teamwork
Balance
Fitness
Confidence
Discipline
Coordination
Manners
Respect
Listening Skills
Safety Concepts (Stranger Danger)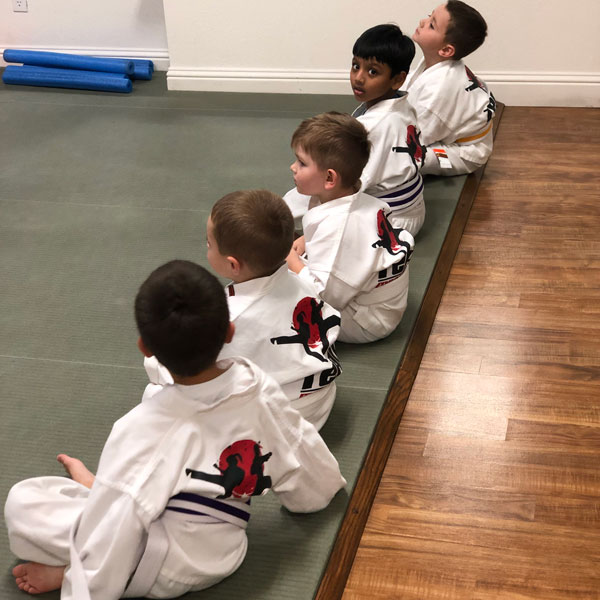 Team Martial Arts Gives Your Children Tools to Succeed
If you're like most parents, you can't help but to look at your child and wonder what kind of person they will grow into being. You know you can't always be there to protect them, so you want them to learn to be independent and strong. You realize that it is up to you to make the critical decisions in your child's development. As a parent, you want to give them the tools to hopefully one day grow up and create a fantastic life, right? Team Martial Arts can help you achieve these goals with our exciting children's martial arts programs.
Livermore's Best Choice for Kids' Martial Arts Programs
When you enroll your child in our Tigers program, they will learn the values of believing in themselves, paying attention, and feeling good when they do their best. Through hard work, they will earn the self-esteem to stand up for themselves when needed and be able to defend themselves should the situation call for such tactics. Your child will learn the values of making good choices, never giving up, and always doing the right thing.
Team Martial Arts Is Dedicated to Serving Your Family
It takes a village (or TEAM) to raise kids, and you can count on us to be your partner. Team Martial Arts will nurture your child's individuality while teaching them to be resilient in the challenges facing children today. Our team will give your child the attention deserved, make sure they are always engaged, and ensure they are having fun. We help promote the values you teach at home like treating each other with respect and the basics of teamwork. Please reach out to us today to enroll in our children's martial arts classes in Livermore, CA.
Sign Up for Our Martial Arts Programs