Skip to Content
Your child's confidence grows every time a new life skill is learned, and all of our children's martial arts classes have been carefully designed to help develop their motor skills, hand-eye coordination, and learn character development skills. When your child aged 7-10 trains with Team Martial Arts, they will be well-equipped to do their very best at home, school, and in life.
To see samples of our teaching style, view our YouTube videos:
Kicking Technique
Self Defense Technique
Single Stick Technique
Mat Chat on Rule of One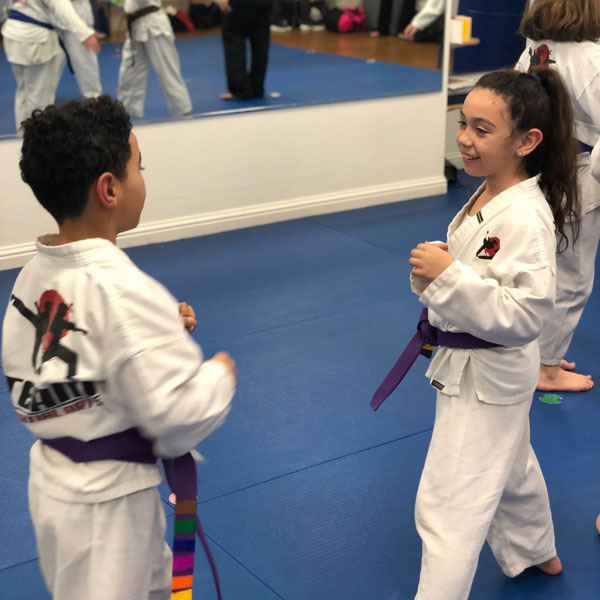 Using Positive Reinforcement to Teach Kids
Through our philosophy of positive reinforcement, your child will develop the security and confidence to thrive in new situations. Classes are exciting and conducted with a perfect balance of discipline and fun. Students learn to develop a foundation for success from our black belt instructors. Our curriculum is concentrated on a solid foundation of martial arts and core life skills. Childrens' martial arts classes are a way to give your child an introduction to the world of martial arts in a family-friendly, safe, and controlled environment.
Developing Life Skills
Our Children's Martial Arts program for children ages 7 to 10 will focus on and improve the following:
Practical Self-Defense
Respect
Discipline
Character
Increased Confidence
Focus
Goal Setting
Perseverance
Integrity
Team Martial Arts Provides the Tools for Your Child to Succeed
Most parents hope their child will grow up to be strong, independent, and healthy. The tough thing is that you can't always be there for them, so you realize it is up to you to make the critical choices as your kid develops. As the child's primary guardian, you want to give them the tools to hopefully one day grow up and create an amazing life, right? One choice is clear then, and that is enrolling your kid at Team Martial Arts for our children's' martial arts programs in Livermore, CA. They will learn the value of believing in themselves, paying attention, and gaining a sense of accomplishment when they do their best. Your child will learn the values of making good choices, being goal-oriented, never giving up, and always doing the right thing when presented with opposition. Through hard work, we teach them to build their self-esteem and to stand up for themselves when required.
You Can Count on Team Martial Arts to Serve Your Family
At Team Martial Arts, we believe it takes a village of friends and family to raise kids properly, and we want you to count on us to help through our children's martial arts programs. Our instructors nurture their individuality while teaching them to be resilient in the day-to-day challenges presented to children. Our team will give your child the attention they deserve while making sure they are always engaged and having fun at our studio. We attempt to mirror the values you try to impress upon them at home, and we want to work together to make sure their success is totally achievable. Please reach out to us today to enroll your kids in our unique martial arts classes!
Sign Up for Our Martial Arts Programs