Skip to Content
About Team Martial Arts' Positive Reinforcement Philosophy
For more than 10 years, Team Martial Arts has been teaching martial arts classes to the Tri-Valley area from our Livermore, CA studio. Team Martial Arts, led by Wade Taylor, utilizes a kenpō style of martial arts derived from Kajukenbo, a hybrid martial art, which incorporates a mixture of striking, blocking, kicking, stand-up and ground combat, choreographed forms, and self-defense. This style was developed by five martial artists, each with a different specialty, and was officially founded in Oahu, Hawai'i in 1947 by Adriano Emperado. The Kajukenbo name is an acronym for all the styles it incorporates in its practice: KArate; JUdo/jitsu; KENpo; BOxing. The name of the art also holds a philosophical meaning: "Through this fist style, one gains long life, and happiness."
We teach with a philosophy of positive reinforcement (catch students doing it right vs. catch them doing it wrong). Through positive reinforcement, we can have a balance of fun and discipline in each class. Both are needed to be successful within the studio and life.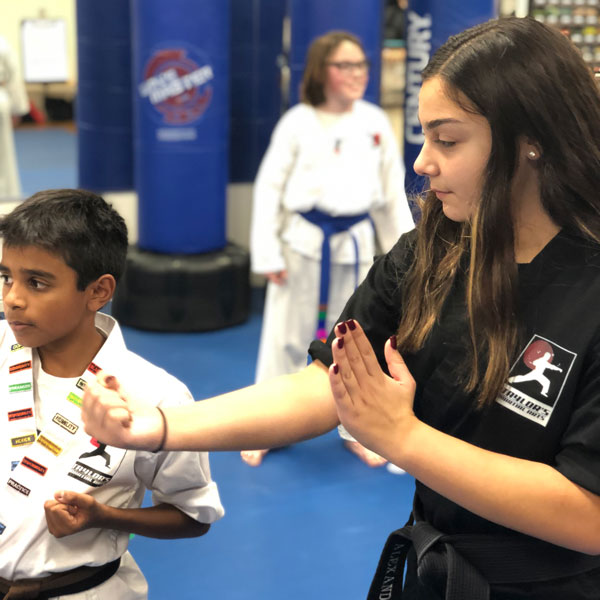 Meet Team Martial Arts' Black Belt Instructors
Led by a fourth-degree black belt instructor, Wade Taylor (Sifu Wade), the Team Martial Arts instructors are passionate and knowledgeable about teaching martial arts. Each instructor has a lot to offer – from a fresh perspective and enthusiasm found in our younger instructors to the many years of life experience from our more seasoned instructors. Team Martial Arts of Livermore is proud to have a strong team that is driven by sharing our expertise with students of all ages. The Team Martial Arts team loves seeing our students grow and improve over the years, both in the studio and outside of the studio using our TEAM method: Together Everyone Achieves More.
Membership Options at Team Martial Arts
Don't worry about long-term commitments and contracts other studios make you sign. At Team Martial Arts, we offer month-to-month memberships with no long-term contracts, no cancellation fees, no testing fees, and no enrollment fees. We want you to focus on your martial arts studies, and we don't want big, scary contracts to deter you or your family form learning life-long skills while getting in the best shape of your life. Reach out to Team Martial Arts today to learn more about our flexible membership options!
Sign Up for Our Martial Arts Programs