Skip to Content
Team Martial Arts' instruction for teens helps young adults manage the stresses of school and teenage life. Our teen martial arts programs in Livermore, CA are a healthy space for teens to have fun and be themselves while developing life skills and sound judgment through mental and physical skill building exercises. The classes are enjoyable, but we do have high expectations for our students, encouraging them to balance excellence in both our studio and life.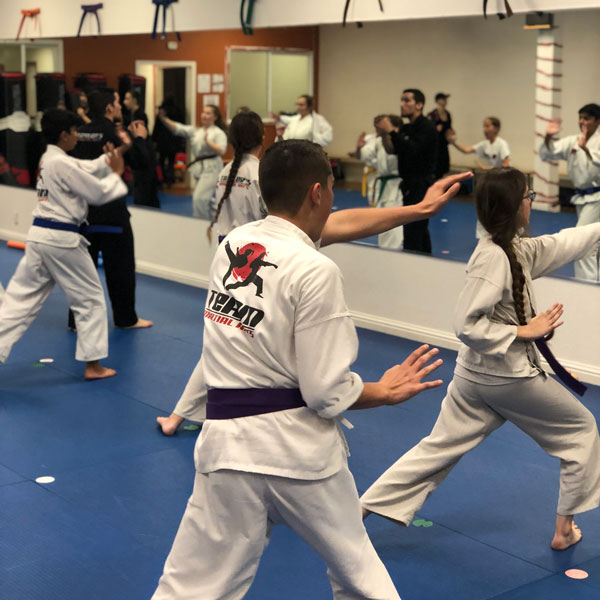 Making Good Decisions for a Successful Life
Team Martial Arts gives students a place to belong while learning dedication, maturity, achievement, friendship, and acceptance. Training at Team Martial Arts gives your teen the edge on judging situations accurately, making good decisions, enabling them to stay safe and become successful in life. Our teen martial arts programs in Livermore, CA are geared for pre-teens and teens ages 10 to 14 and will focus on and improve the following:
Confidence
Practical Self-Defense Skills
Fitness and Flexibility
Ways to Avoid Peer Pressure
Be Surrounded by Goal-Oriented People
Once your teen joins Team Martial Arts, our instructors will nurture their individuality while teaching them to be resilient in the day-to-day challenges presented to teenagers throughout the U.S. Our team will give your teen the attention they deserve while making sure they are always engaged and having fun at our studio. We believe both are required to create a successful and meaningful life. The values you attempt to teach them at home are essential to us, and we try to mirror those in our martial arts programs. We want to work with you to shape your teen into a prosperous adult, helping them to become the best version of themselves through the life skill building programs at Team Martial Arts.
Sign Up for Our Martial Arts Programs