Skip to Content
Did you ever take martial arts as a kid but ended up quitting? Or maybe it's something you've always wanted to do but were convinced you couldn't make the time for it. Nothing should stop you from experiencing the life-changing benefits that the martial arts have to offer. Our team continually trains to provide you with the best learning styles available. We encourage you to push past your comfort zone, which is where you do your best growing. But you can be confident the Team Martial Arts instructors will work at your pace while keeping it safe and fun for everyone!
Studying the martial arts has proven to reduce your stress, get you in better shape, and offer you a lifestyle most people would envy. We understand that people want different things from our adult martial arts classes in Livermore, CA, so we tailor them to your needs and goals. Whether you're here for life-balance, self-defense, or to make new friends, Team Martial Arts is here to help you achieve your goals.
Some students have been practicing martial arts since age three. Others did not take their first lesson until they were 15 or older. Regardless of your background and skill level, our adult martial arts program in Livermore, CA offers something for everyone. Our instructors are equipped to teach and inspire students of all ages. Please contact us today to learn more or to enroll!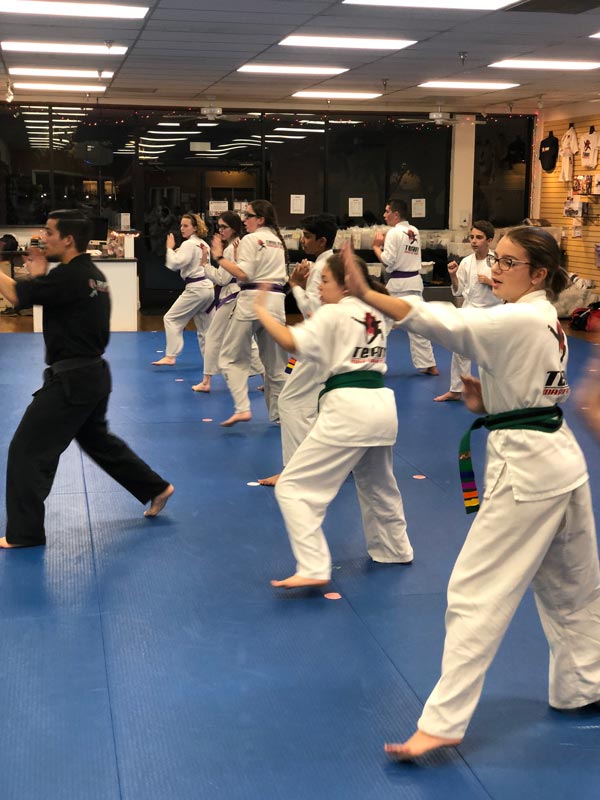 Create Balance, Feel Safe, & Get Fit with Team Martial Arts
For Tri-Valley students who have been training in martial arts since they were a kid, our adult martial arts classes continue to build on the curriculum taught in our youth and teen karate courses. Our adult classes offer the opportunity to sharpen and refine skills, including teaching and demonstrating skills to peers. For students learning martial arts for the first time, our classes are a great way to get out of your comfort zone, learn a new skill, and be surrounded by a group of talented, supportive individuals who will help you progress at your own pace. Our classes promote healthy lifestyles, a fun and safe learning environment, and an opportunity to be part of an empowering, positive group of people. Our adult martial arts program in Livermore, CA teaches:
Strength and Conditioning
Stress Management
Control of the Mind, Body, and Emotions
A Mix of Traditional Martial Arts and Practical Self-Defense
A Healthy Lifestyle
Sign Up for Our Martial Arts Programs